Check out the list of every time that you can see Avicii in Las Vegas. Avicii is a resident DJ at Encore Beach Club and XS Nightclub at the Encore Las Vegas. In 2014, it looks like he will be in Vegas a lot. Just in April of 2014 you can see Avicii at Encore Beach and XS Nightclub twice and then six times in May!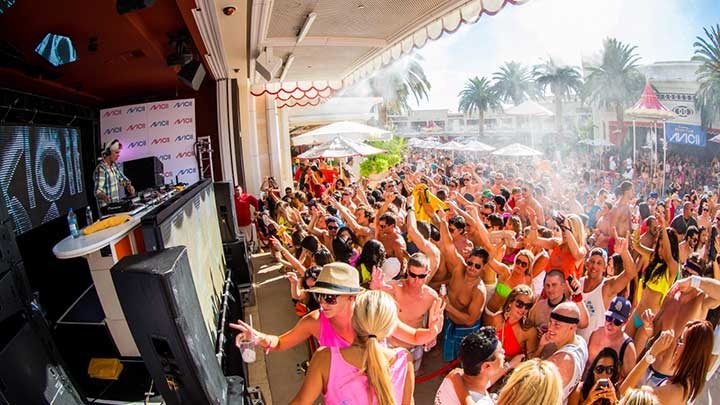 If you are planning a trip to Vegas and are planning your pool party around who is DJing then you are going to want to subscribe to our updates and we can send you a list of who is DJing at each pool on a weekly basis.

If you are interested in purchasing tickets to any of the events listed below you can simply just click on the tickets link next to the date and purchase your tickets! If you are looking for a complete list of Vegas Pool Party Tickets you can visit our Vegas Pool Party Ticketing Page.
Bottle Service for Avicii
If you are interested in reserving bottle service for Avicii then you can visit out Las Vegas Bottle Service page, complete the form and someone will be in contact with you regarding pricing and availability for bottle service for you and your group.
REQUEST BOTTLE SERVICE FOR AVICII

Avicii Las Vegas April 2014
4/18 – XS Nightclub – tickets
4/19 = Encore Beach Club – tickets <– Says Special Guest Might not be Avicii
4/25 – XS Nightclub – tickets
4/26 – Encore Beach Club – tickets
Avicii Las Vegas May 2014
5/2 – XS Nightclub – tickets
5/4 – Encore Beach Club – tickets
5/9 – XS Nightclub – tickets
5/10 – Encore Beach Club – tickets
5/25 – XS Nightclub – tickets
5/26 – Encore Beach Club – tickets
Avicii Las Vegas June 2014
6/7 – Encore Beach Club – tickets
6/14 – Encore Beach Club – tickets
6/21 – Encore Beach Club – tickets
Subscribe to Vegas Pool Party Updates