The pool district at the Cosmopolitan Las Vegas is made up of three distinct Las Vegas pool experiences, from the refreshing retreat of the Bamboo Pool to the craziness known as Marquee Dayclub.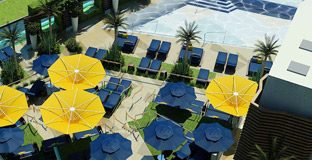 The Bamboo pool is a relaxing pool with a private canyon-like feel. It's a great place to escape the craziness of Vegas and recover or just relax for the day. It offers a number of revitalizing spa treatments right in your cabana.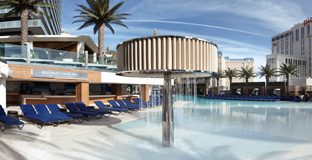 Located on the fourth floor, overlooking the Vegas Strip, the multi-level Boulevard Pool provides stunning views in all directions. Upbeat music, combined with the lounge chairs and daybeds make the Boulevard a lively social scene. Not only does the Boulevard pool host nighttime concerts, they also show an ongoing series of double features called Dive in Movies on Mondays. These are $3 per person unless you are a guest of the hotel which makes it FREE.
The Marquee Dayclub Pool is a Las Vegas pool that features three-story Bungalow Lofts, complete with cabana and living quarters and the Marquee Grand cabanas are equipped with their own infinity pools that overlook the Marquee Dayclub party deck.
Hours of Operations
The pools open from 9:00 am to Sunset, 7 days a week. These pool hours are subject to change due to inclement weather and special events.
Hotel Pool Reservations
Bamboo & Boulevard Pool – (702) 698-6797 or email cabanaReservations@CosmopolitanLasVegas.com